Rick Troutte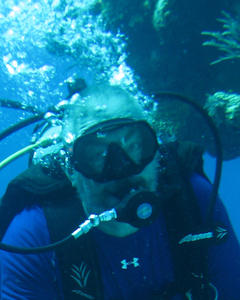 I started diving in 2006 when a friend asked if my sons and I might be interested in continuing scouting with Venture Crew 1020 which was focusing on Scuba. I didn't know when to stop training and the next thing you know, I was an instructor. Now the boys are grown and my daughter is my Venture Crew and dive buddy.
What made you want to teach scuba diving?
It started out as a way to be able to introduce scouts to scuba. Then I decided I loved the underwater world so much I wanted to introduce as many people as I could to it.
What is your favorite place to scuba dive?
Are you kidding me? The dives just keep getting better and better. I'll let you know right after….no, probably not then either.
What is your favorite specialty to teach?
Peak Performance Buoyancy, Navigation, Naturalist, Night, ……….that's just one right?
Do you have any future diving plans?
Yes, every chance I get. When was the last time you were in CZM?
What do you do on your off-time?
Hunting, golf, anything outdoors.
INSTRUCTOR RATING:
• Master Scuba Diver Trainer
• EFR Instructor
• DAN Instructor
• HSA Instructor
COURSES I TEACH:
• Advanced Open Water
• DAN Advanced Oxygen Provider for Divers
• DAN AED for Scuba Diving
• Project AWARE - Fish Identification
• DAN Basic Life Support Pro
• Boat Diver
• Bubblemaker
• Care For Children with AED
• Project AWARE - Coral Reef Conservation Diver
• Deep Diver
• Digital Underwater Photographer
• Discover Scuba Diving
• Discover Snorkeling
• Divemaster
• Diver Propulsion Vehicle Diver
• Drift Diver
• Dry Suit Diver
• Emergency First Response Provider
• Enriched Air Diver
• Equipment Specialist
• Junior Open Water
• DAN Hazardous Marine Life Injuries
• Master Scuba Diver
• Night Diver
• DAN On-Site Neurological Assessment for Divers
• Open Water Diver
• DAN Oxygen Provider for Divers
• Peak Performance Buoyancy
• Project AWARE Specialist
• Rescue Diver
• Scuba Reviews
• Seal Team
• Search and Recovery Diver
• Underwater Naturalist
• Underwater Navigator
• Wreck Diver